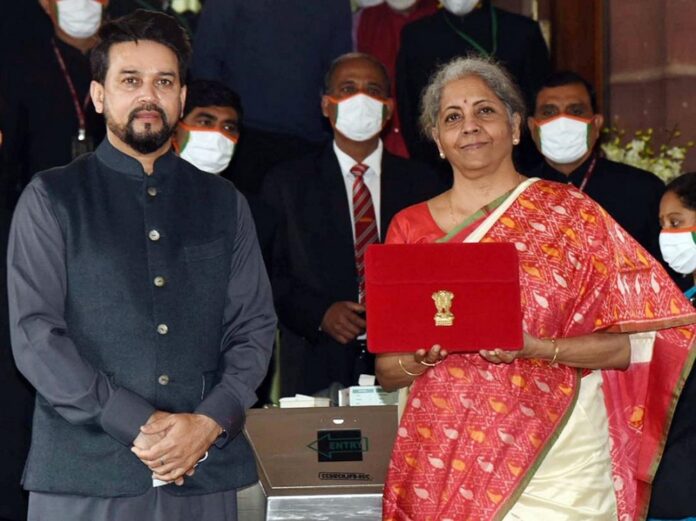 T

he Narendra Modi 2.0 government has given sufficient reasons for the gems and jewellery industry to rejoice in the Budget 2021 as some of their major demands have been accepted by the Finance Minister Smt. Nirmala Sitharaman.
Their reasons to cheer include waiver of customs duty on precious metals like Gold, Silver, and Platinum and the announcement of a new SEBI regulated gold exchange.
During her budget speech in the Parliament, Hon'ble Finance Minister announced the following reductions in levies and duties on the import of raw materials for the gems and jewellery sector:
The import duty on gold and silver has been reduced from 12.5 per cent to 7.5 per cent.

The import duty on Platinum, Pallidum, etc has been reduced from 12.5 per cent to 10 per cent.

Import duty on Silver Dore Bar reduced from 11 per cent to 6.1 per cent.

The import duty on Gold/Silver Findings has been cut from 20 per cent to 10 per cent.
Thanking the Hon'ble Prime Minister and Hon'ble Finance Minister for this bold and pragmatic growth-oriented budget, the Gem & Jewellery Export Promotion Council's (GJEPC) Chairman Colin Shah said, "The reduction in import duty from 12.5 per cent to 7.5 per cent will help the gem and jewellery exports become globally competitive. Reduction in duty on raw materials would give the much-needed boost to the sector and help it to move to the next level."
According to him, the high duty structure on precious metals had made the exports uncompetitive in the past few years.
"A large part of Indian diaspora/NRI, moved to Dubai, Hong Kong, or other centres to buy jewellery which was largely impacting the employment as well as business in India," he pointed out.
Shah also believes that the decrease of import duty on jewellery findings to 10 per cent will help the jewellery manufacturer exporters in a big way.
"Another relief for the industry was the clarification on Equalisation Levy. What we understand that from the budget is that Online Equalisation Levy of 2 per cent is now not applicable on B2B purchases from International Diamond Auctions. This will help our manufacturers of diamonds to buy directly from miners. Sincere thanks to Hon'ble FM for this relief," he added.

For Sachin Jain, Managing Director, De Beers India the timely and effective measures taken into consideration by the Finance Minister for the gems and jewellery sector in the Budget 'has struck an optimistic chord in the New Year'.
"Import duty reduction on gold and silver from 12.5 per cent to 7.5 per cent is a step in the right direction and will boost the diamonds, gems and jewellery sector. As a result of this cut, prices of precious metals will fall, which in turn will spur demand and footfalls into the retail/online stores. As we did not see any drastic increase in taxes, the demand for precious diamonds, gems, and jewellery will continue to be strong among consumers," he assured.

Highlighting some of the key points in the Budget 2021 for the sector, Rajesh Neelakanta, ED & CEO of BVC Logistics –  India's largest secure logistics enterprise, managing the logistics for over 50 per cent of the country's trade of diamonds and jewellery said that they were expecting an update on the long-awaited National Logistics Policy. However, there have been some hits and misses for them.
"Certain good points to look forward are reduction in timelines for reopening of assessments from 6 years to 3 years. Businesses can now breathe relatively easily because of this announcement. Boost to infrastructure development by allowing TDS exemption for investments into INVITs. Rationalising custom duties on gold and silver is a welcome move. The focus on logistics through the development of road and highway projects will encourage economic transformation and seek to improve connectivity that is much needed for the growing economy," he shared.
Vipul Shah, Vice Chairman of GJEPC feels that the finance minister has done a remarkable job by presenting a bold budget in these difficult times.
"The budget focused on investments in the infrastructure sector, consolidation of regulations, implementing digitisation in several sectors, and reducing regulatory forbearance. There were also various measures to improve consumption. We want to congratulate the finance minister and prime minister for coming out with a landmark budget," he said.