T

he traditional Maharashtrian jewellery is an exhaustive heritage to take pride in. Centuries-old, influenced by several cultures, Maharashtra's treasure trove is full of varieties, in necklace, earrings, bangles, rings, anklets…, to adorn you from head to toe.
Thanks to the movies and TV shows exploring the rich history of Maharashtra, there has been a tremendous rise in the demand for Maharashtrian jewellery in the last few years. Women from different walks of life, irrespective of whether they are Marathi or not, now love to flaunt some of the traditional designs. 
Just so you know, Maharashtrian jewellery culture dates back to many centuries ago, several cultures have influenced it and with that, there is an extensive variety in designs and techniques. But amongst all, Kolhapuri Saaj continues to rule the roost. 
It rose to fame during Chhatrapati Shahu Maharaj's reign and since then, is worn by married women for its divine influence. Made of jav mani (golden beads), the Saaj has 21 leaf-shaped pendants where each pendant has its own symbolic significance. 
Of the 21 pendants, 10 pendants symbolise the ten avatars of Lord Vishnu and two pendants come with ruby and emerald stones embedded in them. Eight pendants are for ashtamangal ('ashta' means eight and 'mangal' means good happenings) whereas the tenth pendant is a taviz.
Just like Saaj, even mangalsutra with watimani and black-beaded string is a must-have jewellery for married women since time immemorial.
Mangalsutra deserves a special mention as it has not just been widely accepted by other cultures but also is one of the most selling ornament at any jewellery store. 
With time, this symbolic jewellery piece has also evolved in terms of design, and today, there are many modern design options available to suit the taste and style of the new-age women.
Putli Haar or Laxmi Haar is another design marvel of this rich culture. Crafted by threading together a series of coins with a silk cord, this traditional neckwear has been around since the 17th century. 
Interestingly, each coin has Goddess Lakshmi engraved on it, symbolising the goddess of wealth. Perfect for a new bride who is considered to be the Laxmi equivalent in any Indian household. 
A Marathi bride's look is never complete without a Thushi necklace that has its root in the Peshwa period. To create this timeless traditional necklace, many tiny beads are closely strung together with an adjustable cord (Gonda).  
Apart from necklaces, rings and earrings too are designed using this technique. Rani Haar, Tikada set, Mohan Mala, and Vajratik are other typical Maharashtrian necklaces worth exploring. 
Maharashtrians' fondness for pearls is not unknown and is vividly captured in the designs of chinchpeti (choker) and tanmani (short necklace). Their love for pearls is further manifested in the elaborate variety of naths that the culture boasts of. 
From Brahmani and Karwari naths to royal and pearl ones, there is an extensive use of pearls in the designs. These days, diamond-studded naths with a modern take are also available for a lavish look.

Even earrings like Kudya pairs manifests the deep-rooted love for pearls in this culture. Kudya essentially has a coloured centre pearl which is surrounded by six other pearls forming a gorgeous floral pattern. All the pearls are set on an underlying golden frame with varying degrees of visibility from the outside. For an even more opulent look, Kaan – the traditional ear cuffs studded with pearls or crafted purely in gold, is attached to the studs.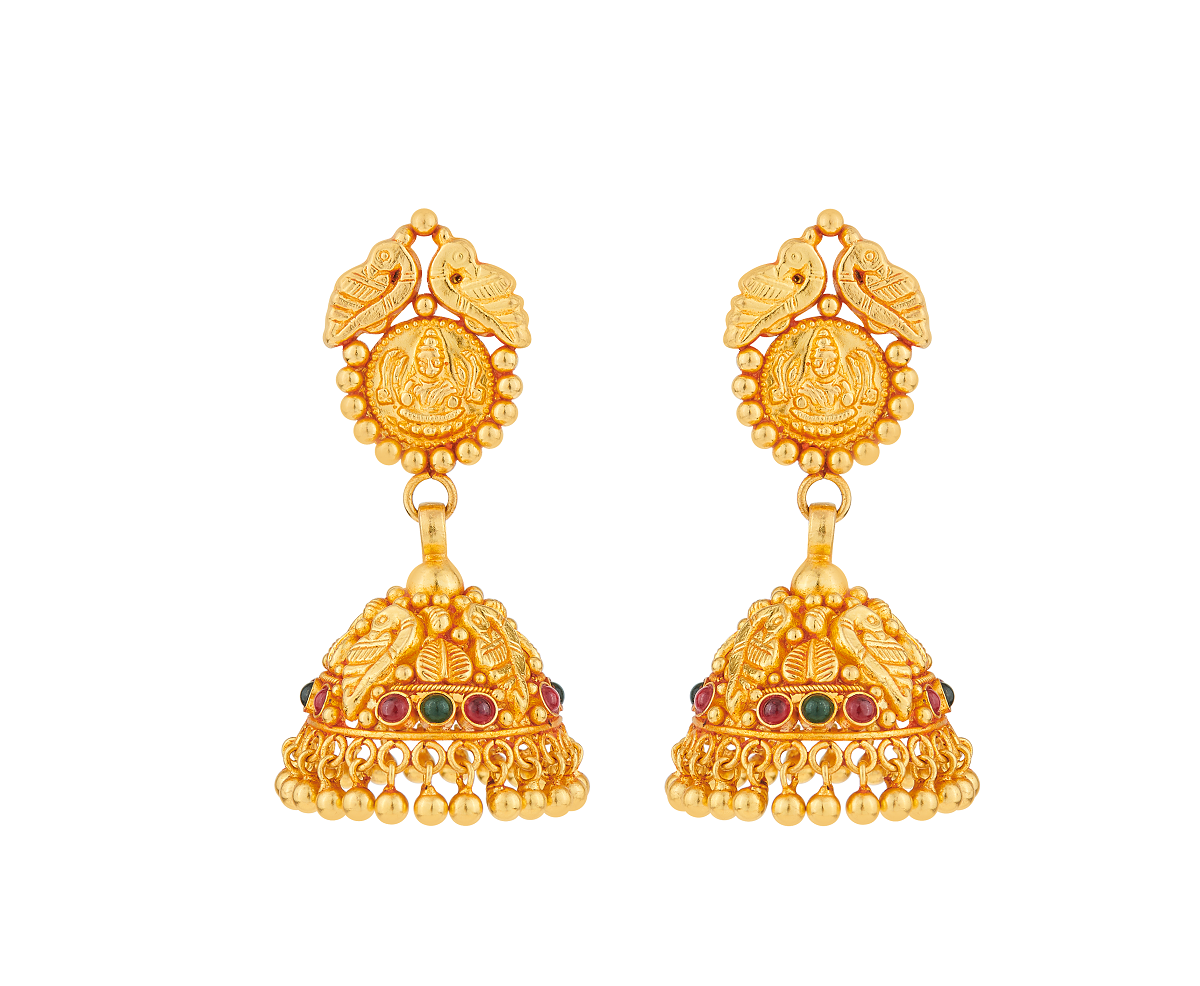 When it comes to bangles, Maharashtra does not cease to surprise you. From Patlya, Pichodi, and Tode to Goth and Coin bangles, you will be spoilt for choice.
Plus, kangans, leaf-patterns and kundan bangles are other options worth considering for a traditional look. Although green glass bangles are a must during the wedding, the bling of gold is an irresistible proposition to go with it. 
Maharashtrian jewellery also have specialty in silver. A pair of toe rings, Jodvi is gifted by the bride's mother-in-law and is worn each on the second toe finger. Even Hupri, a region 20 km away from Kolhapur, takes pride in its out-and-out hand-crafted pajebs that have found takers across the country and around the world too. 
The mundavalya worn on the wedding day, the Bajuband (the amulet) that sits on the upper arm, ambada pin that ornates the hair bun and kamarbandh that infuses the bridal feel into the whole ensemble are some of the other significant jewellery that has its root in Maharashtra. 
But that's not about it. The more we seek, the more we discover. Maharashtrian jewellery culture is too vast and vivacious to encapsulate in a single article. The quest just begins…
(Written by Deepa Mishra – managingeditor@jewelpedia.in)