F

ocusing on new millennial audiences, especially the younger lot, Mia by Tanishq is known for design exclusivity and contemporarising classics. With the season of love around the corner, the brand has unveiled an exquisite pearl-based collection '

The Cupid Edit

' with a Mia spin to the affordable range. Talking about this Valentine's Day special collection, Shyamala Ramanan, Business Head, Mia by Tanishq, outlines the beauty of each jewel aesthetically as well as conceptually.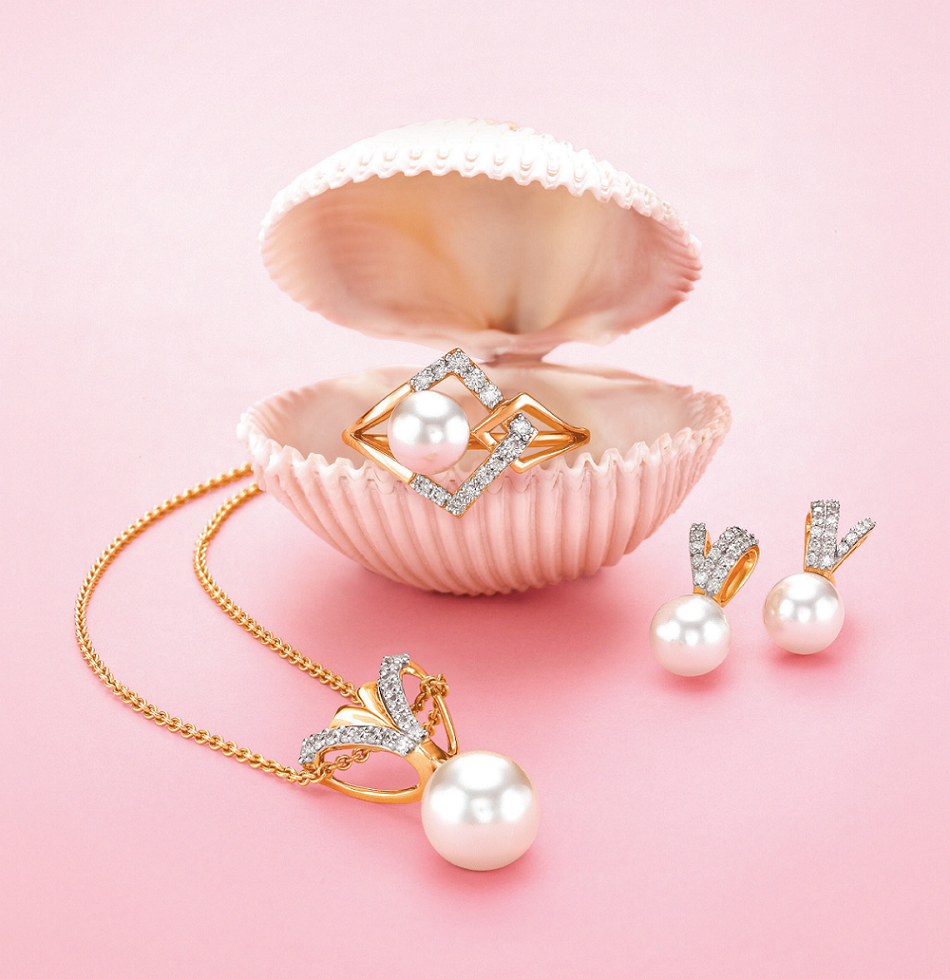 How did Mia picture pearls and Valentine's Day jewellery together?
Pearls have always been a symbol of love. In ancient times, pearls were used by Romans more so during the Cleopatra rule. Being all about love, being all about sensuality, pearls are apt for a Valentine's Day collection. Pearls don't have a shine but a beautiful luster and we wanted to bring that out in our collection and hence, used pearl as part of our core design.
Moreover,
since girls and diamonds go way back, we have combined pearls with the brilliance of diamonds and used gold as base metal
to build this collection
.
That and also Mia did not have any pearl collection before this. So, we used the timing to launch a pearl-based collection. Also, with United States Vice-President Kamala Harris making appearances wearing pearls all the time, pearls have suddenly come back in vogue in a big way and that has worked for us a great deal. 
What makes 'The Cupid Edit' unique and why do you recommend it for V-Day 2021?
The use of multiple materials is what makes 'The Cupid Edit' unique. Multiple types of pearls are used to design this collection. Not just white pearls, there are yellow pearls, rose pearls as well as black pearls in the design. Other than that, we have also used a combination of contemporary metal tones such as white gold and rose gold. You also see a coming together of white gold and yellow gold here. Interestingly, the whole concept is all about 'intertwining' just like love, and with timeless shapes like heart and infinity in the design, 'The Cupid Edit' is a perfect expression of eternal love.

Moreover, we believe that cooped up in our homes due to the pandemic, the appreciation for the woman in the family has gone up multiple folds. That is why this year especially we have gone all out to design a collection for men to express love and affection to the woman they care about.
What pieces of jewels this collection consists of? 

We have largely focused on three categories – earrings, finger rings, and pendants. Since earrings are easy to choose and that girls too never get enough of earrings, earring are largely bought as gifts. This is why we have aggressively worked on it.

That apart, there is also an exquisite range of finger rings as this is also the time of the year when a lot of proposals happen. Yet the eternal classics are the pendants that even complete the set. 
Where is the collection available for the buyers and what is the price point?
'The Cupid Edit' is available across marketplaces such as Amazon, Myntra, Tata Cliq, and Tata Cliq Luxury, apart from our home site of course. And we do retail out of our Tanishq stores and Mia's standalone exclusive boutiques. About the price point, it starts at Rs. 5,500 and goes up to Rs. 30,000 odd; it can be easily termed as affordable fine line jewellery. 
Shed some light on the collection's name – 'The Cupid Edit'.
The collection's name 'The Cupid Edit' itself is a winner. With everybody naming their collection as Valentine, we differently called it as 'The Cupid Edit', and that instantly forms connect with our audience. As we all know, cupid can strike you anytime anywhere and by naming it thus, to some extent, we have made it timeless.

How did you reach out to your consumers with this Valentine's special collection? 

We are a digital forward player. Because that's where our consumers are. W
e have done an exclusive tie-up with Voot where they have done a video for us which is now live on their platform. The video is all about Mia women. At any point in time even while she is dressing up for Valentine's Day, the video explores her different attires and accordingly, jewellery that can be matched up to round off her look. After all, Mia jewellery is all about self-expression.
We have also conducted an Instagram unboxing activity where our brand ambassador Mithila unveiled the collection live. Over 7.5k views were recorded which is pretty big! Other than that our promos are being run on Hotstar and other online platforms.
Moreover, in-store visual merchandising includes a lot of hearts and prominent use of red colour. As a result, there is an increase in walk-ins. To keep up with the sentiment of the people at this time of the year, we have designed a special limited edition gift box in red colour with a little heart cushion too.
What trends do you see for jewellery in 2021?
Due to the COVID scare, the occasions to dress up and go out have come down. So, women would want to look well-dressed even when they are at home or office. There are times you can slack off in your pajamas but there also comes a time, you want to shake up and feel good about yourself. So affordable, everyday jewellery will come into play in a big way. That's why we are confident that we are at the right place at the right time.
For the next six months, we will continue to see more of online meetings. Work from home will go on for another few months. Earrings, therefore, would be a category that will continue to rock. New categories might come in like mask chains for example, which can also double up as a support for holding the mask.
Other than that, layered look, stack look will continue to be in trend. Given the time we have seen last year, symbols to do with faiths, healing stones, and natural stones are going to be in. Even coloured stones too will take center stage as you also want to add some colours to your life in these tough times, which we will also be the focus of our next collection.