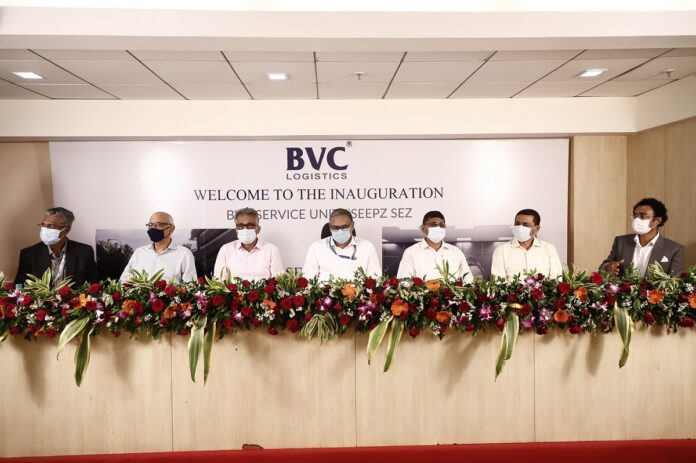 B

VC Logistics, the market leader in Secure Logistics of precious cargo for the past over 60 years, has expanded its Fulfillment Centre business with the launch of a state-of-the-art Service Unit within SEEPZ-SEZ in Mumbai. This BVC Service Unit offers trade vaulting and related logistics services for overseas bullion suppliers who supply gold and silver to the jewellery manufacturing units at SEEPZ-SEZ. With this unit, the trade will be able to procure gold and silver for their manufacturing operations in smaller quantities with a shorter transaction time and reduced logistics costs.
The Service Unit was inaugurated by Shyam Jagannathan IAS – Zonal Development Commissioner, SEZs – Maharastra, Goa, Diu & Daman. The Guests of Honour for the event were CPS Chauhan – Joint Development Commissioner, SEEPZ-SEZ,  Pravin Chandra – Joint Development Commissioner, SEEPZ-SEZ,  Rajeev Pandya – President, SEEPZ-SEZ Gems & Jewellery Manufacturers' Association & Sabyasachi Ray – Executive Director, Gems & Jewellery Promotion Council.
Respected Zonal DC spoke at length about the initiative of Hon'ble PM's mandate of achieving an export turnover of US$ 400Bn and the jewellery industry is a major stakeholder. And that the SEEPZ Administration support for the growth and good of the Units is assured. Trade attendees included Shri. Mehul Shah – Vice President – Bharat Diamond Bourse, Shri. Tapan Shah from Kotak Bank, Shri. Shafi Aziz from Union Bank of India, Shri. Surendra Kalve from MMTC Ltd., Shir. Kumar Gaurav from Jewellery Infomedia and a host of other SEEPZ jewellery unit representatives.
In his opening remarks, Bhavik Chinai, the Group CEO, BVC Logistics, said, "The BVC Service Unit allows suppliers of bullion to store and supply small quantities within a few hours at an economical cost. All the over 150 jewellery units at SEEPZ-SEZ will start benefiting from BVC's facility. This investment reinforces our focus on making shipping the competitive advantage to our esteemed customers."
Uday Chinai proposed the vote of thanks. Thereafter the action moved to the BVC Service Unit where the Zonal Development Commissioner inaugurated the facility by cutting a ribbon. A ceremonial lamp was lit by the Chief Guest and the Guests of Honour. The event ended with a tour of the facility.