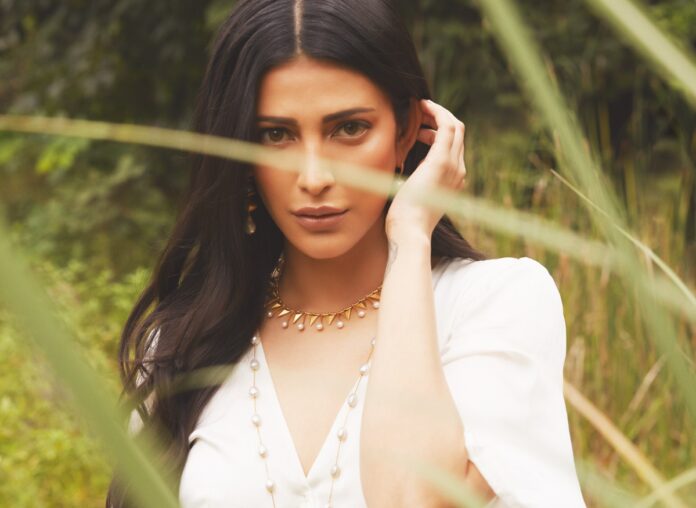 P

aksha, a Tarinika brand, has introduced its splendid line of jewellery with a fine amalgamation of timeless design and meticulous quality with the actress and musician

Shruti Haasan
. Sunaina Ramisetty brought in her latest collection Nipuna featuring her muse, Shruti Haasan who took the internet by storm. In a series of pictures shared by the actress, she looked every bit ethereal in a pearl necklace and choker, who particularly enjoyed a mix of the delicate pearls and modern traditional designs to pair with her brunch to dinner look. The pieces of Nipuna collection by Paksha are made of exquisite freshwater pearls, gemstones and gold plated 925 silver. The style ranges from modern, contemporary to traditional.
Their exclusive line of delicates, aptly titled 'Nipuna' meaning delicate or fine, is the perfect companion to express your love and affection. The Nipuna collection by Paksha is designed with a touch of lightness that can be carried through occasions, from day to night. Nipuna could be a working woman who loves delicate work accessories, a college-going girl who likes a touch of delicate glamour, a mom who likes to keep things simple & elegant, or a young teenager who is just discovering jewellery.
'Naturally, Shruti's persona resonates with the luxurious appeal of Paksha as a jewellery brand. Shruti is a powerhouse of talent and a natural fit for Paksha. With her multifaceted, vibrant, vivacious, and dazzling personality, she brings the right kind of panache to the brand. A multi-dimensional artist, Shruti is confident, bold, glamorous, and embodies the brand's philosophy in her own individual way.' Shruti Haasan plays a key part in positioning the brand's portfolio globally since the line is meticulously made for buyers with a sophisticated eye for detail. Having attained great prowess in high-quality scaled sustainable production, the brand custodian Tarinika, has been in the jewellery making business for several decades now and has extended their expertise to Paksha
as well.