catching up with friends and want to make a strong style statement in 2021? A stunning cocktail ring can do the trick. But the fear is of wearing something mediocre or any common design. So here is an eclectic range of exclusive designs in cocktail rings that will make onlookers skip a heartbeat.
Captures the Beauty of Dry Logs
You may have often seen logs of wood when you visit the countryside but now, it will twinkle on your finger! Yes, you read that right. Aurelle's this cocktail ring design is quirky from the word go. Firstly, interpretation of a log of wood as a centerpiece and then, picturing diamonds as the barks of the log, is another level of creative thinking. Wow is an understatement for this statement ring.
When Solitaire Meets Emerald…
This exquisite cocktail ring by Dillano Jewels is designed for all those who are still undecided whether they love diamond more or emerald more. Embellished with emeralds, this cocktail ring proudly holds a solitaire in the centre with countless diamonds strewn along the shank. Isn't it a dream piece to flaunt?!
Pearl for Your Unique Taste
Pearl has its own fan-base and this cocktail ring by Diosa is a treat in every sense of the word. Its beauty lies in its simplicity. The gorgeous pearl sitting pretty in the centre with colour stones and diamonds aesthetically nestling it in a floral pattern, this pearl cocktail ring is unmissable.
Let Ruby Work its Charm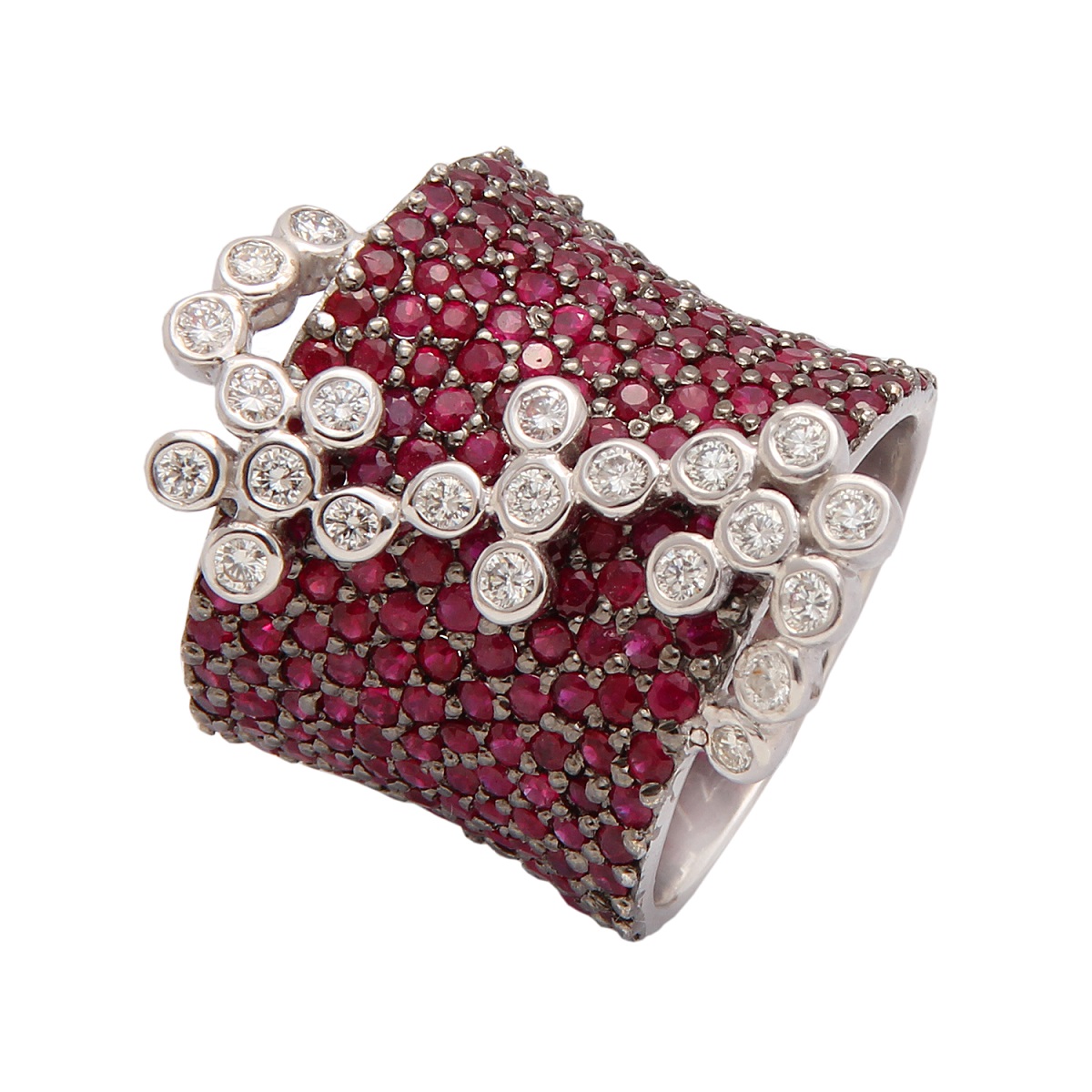 This unusually broadband studded with rubies all along its shank is ANMOL's statement variety, you would love to own, wear and flaunt. Especially the twig of diamonds that randomly falls on it makes it visually even more attractive.
One Size Fits All and How! 
A designer cocktail ring with gorgeous diamonds twinkling on it in a twig-like pattern will be a great combination with an evening dress. This cocktail variety from Lala Jugal Kishore Jeweller's collections is an open style ring and therefore, one size can fit all. Wear it in any finger, it is sure to add that extra zing to your dinner date look.
It Takes Two to Tango
Two-finger is also another trendy cocktail ring that has become a rage for some time now. More and more women have taken a shine to it, for the bold statement it makes. But now when Yoube has brought to you this style of ring in a creeper design that crawls along your finger, its beauty is beyond compare.
Bold and Beautiful Bloom
Exuding opulence, this ruby studded floral ring, bloomed with diamonds, deservedly accessorises your ring finger. You can flaunt this silver ornate ring by Adawna, with any stylish western or indo-western attire and slay.
Come, Fall in Love With Blue Sapphire


Looking for floral designs in cocktail ring? Then, you must take a look at this creation of Kohinoor Jewellers. While you can't resist the glistening blue sapphire in the centre, the jail pattern and diamonds outlining the petal folds make this silver cocktail ring a class apart. Perfect for your party look!
Ready to shine? With one of these cocktail rings, shine in style.