You thought Polki is only about heavy-duty traditional look! Then think again. With the advent of the boho-chic look in the Indian fashion circle, Polki has got a special makeover. Now, it has stepped out of the traditional boundaries and made its way into your western styling. Hard to believe? Check this.
Polki Set With A Black Sheer Dress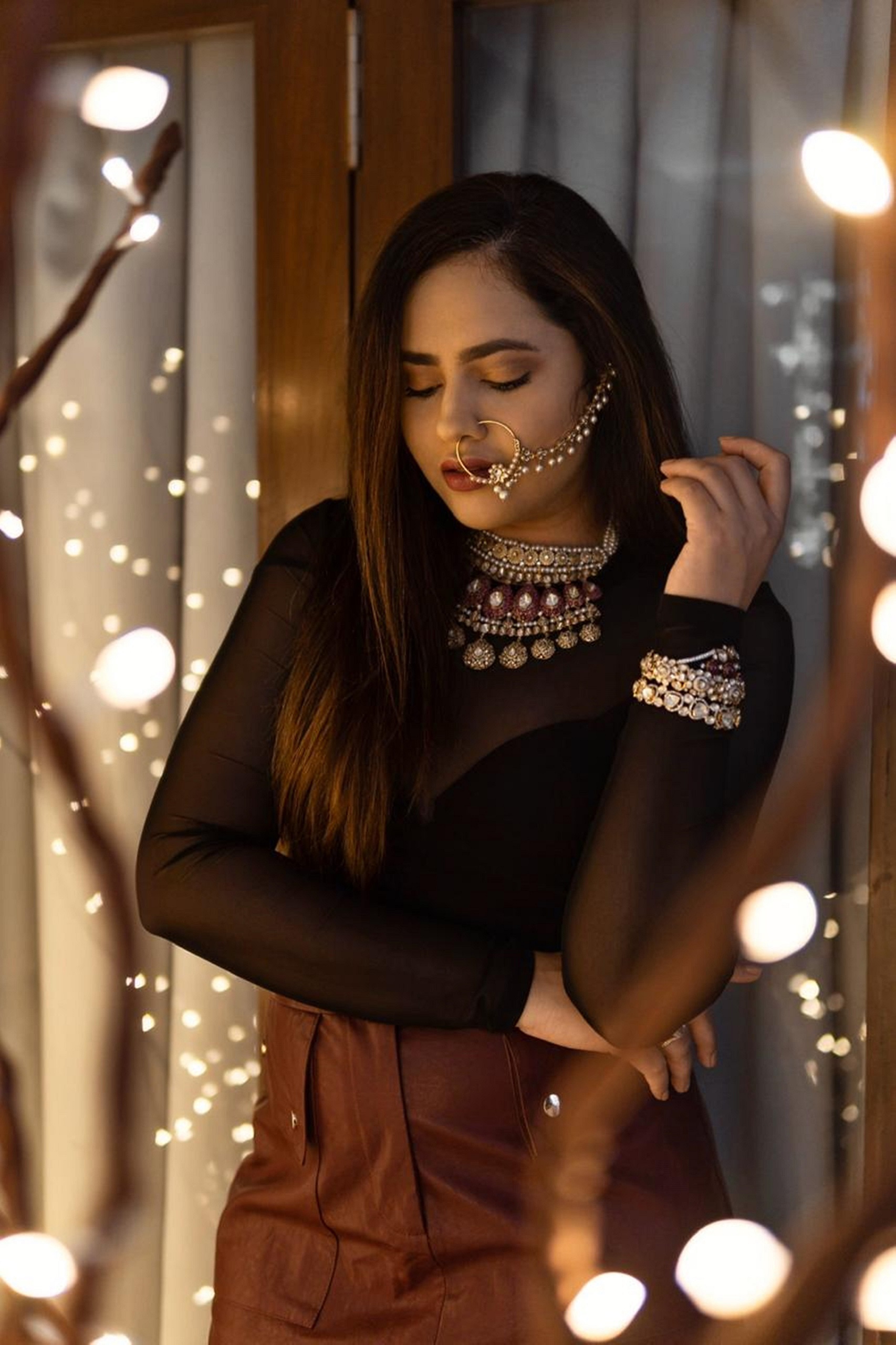 Did not know before today that Polki jewellery can blend so seamlessly with a black sheer dress? Never mind! On the black base of the sheer dress, the intricate designs of the Polki set pops out exquisitely. You must try this combination for an understated look at a friend's house party. Also, a fantastic idea for a dinner date.
Polki Designs With A Racerback T-shirt
No one can picture a Polki jewellery set, a racerback t-shirt, and blonde hair. But a bit of creative thinking and desire to try something different can definitely pave the way for such an indo-western look. For a reunion or brunch outing, you can take a stab at this style.
Polki Designs For A Sufi Look

This Rajasthani jewellery craft also seamlessly blends with a Sufi look. Rounding off the all-white dhoti pants with Polki jewellery and yes, that guitar looks all things pious. Right look for performers to grip the audience with your unique styling.
Boho Chic Look In A Boyfriend's Shirt

Teaming with an oversized shirt gave Polki the brand new styling that was long due. This look is perfect for catching up with friends, shopping, or even summer outings.
Adding Oomph To Your Festive Look

Whether you are wearing an off-shoulder top or a saree-blouse, a Polki set dramatically becomes the attraction of the entire look. You can try this unique combo on any festive occasion.
Boss Lady Look With Polki Jewellery
You don't have to wait for another family wedding to wear your Polki set. Just mix and match the set with your western outfit and sport a boss lady look with élan. You can try this look for an office party or a brunch outing.
Your Polki, your style! Let no one dictate to you how to flaunt your jewellery. What say?!
Do let us know your views about these unusual Polki jewellery stylings in the comments below.