T

here are emeralds and then, there are Colombian emeralds. Women from all over the world, whether royalties, celebrities, or working professionals, have a penchant for Colombian emeralds. Of late more and more Indian brides too are enchanted by its royal green hue and are going in for jewels studded with this alluring gemstone. Prompted by this dramatic rise in Colombian emeralds' popularity in India, here's tracking its eventful journey from mines to market.
Well-known all over the world for its emeralds, coffee, gold, and Miss Worlds, Colombia had a brief time when it was marred with problems of drugs and civil war but that is history now. The new Colombia is a place that is attracting foreign investments across industries, hosting a number of international tourists each year, and is growing at a rapid pace.
Considered as the second most biodiverse country in the world (after Brazil) and the most biodiverse per square kilometer, it houses over 10 per cent of the planet's biodiversity within its only 0.8 per cent area of the globe's surface. Colombia is also the fashion capital of Latin America.
But when it comes to emeralds, it is the big daddy of the world.

For the unversed, emeralds are green precious gemstones that are mined in very few countries in the world, and hence, they are extremely rare and precious. More so, emeralds are 20 times as rare as a diamond. This evergreen gem holds a special place in our culture, not only as the birthstone for May but also as the traditional 55th wedding anniversary gift.

Coming back to the Colombian emeralds. For more than 4,000 years, emeralds have been amongst the most valuable of all the gems on Earth's bed and Colombia accounts for 50 to 60 per cent of the world's emeralds supply by value in the world's emerald market.
A royal reception
Colombian emeralds have always been the most aspired gemstones throughout history. With its roots in ancient Egypt, the classic Colombian emeralds have been sought-after amongst virtually every powerful empire including the Romans, Spanish conquistadors, and India's Mughals.
Even the royalty of the Incan Empire prized Colombian emeralds. In the past, many fabulous gems, like the Guinness Emerald and The Chalk Emerald, which were thought to have formerly belonged to the Maharani of Baroda, India, were yielded in Colombia. The gem is one of the most remarkable examples of the distinctive Colombian green emerald hue.
Most likely the feature gem of a necklace originally, The Chalk Emerald was later recut to its current size of 38.4 carats by famed jeweller Harry Winston.

Fast forward to now. Experts all over the world consider Colombia to be the best place to find emeralds. Although other countries such as Zambia, Zimbabwe, and Brazil are also known for their rich deposits, Colombia is famous for the emeralds with the deepest colour and clarity.
All the famous global designers and jewellery design houses use Colombian emeralds in their designs. David Morris, Maria Gaspari, Grisogono, Cartier, Bulgari, Harry Winston, and many more sell Colombian emerald jewellery for centuries. It has also been the delight of the Sotheby's and Christies auction houses.
Cut, colour, and craze!
Other than excellent clarity and lustre, Colombian emeralds are found in a variety of different shades ranging from deep green to glassy light green. It comes with a good resale value too. A Colombian emerald over 50 carats can cost much more than diamonds of the same size. That, along with its extremely rare occurrence, versatility, and unique characteristics, amps up Colombian emeralds' aspirational value, and therefore, when studded in jewellery, it makes for a great heirloom that can be passed down from generation to generation.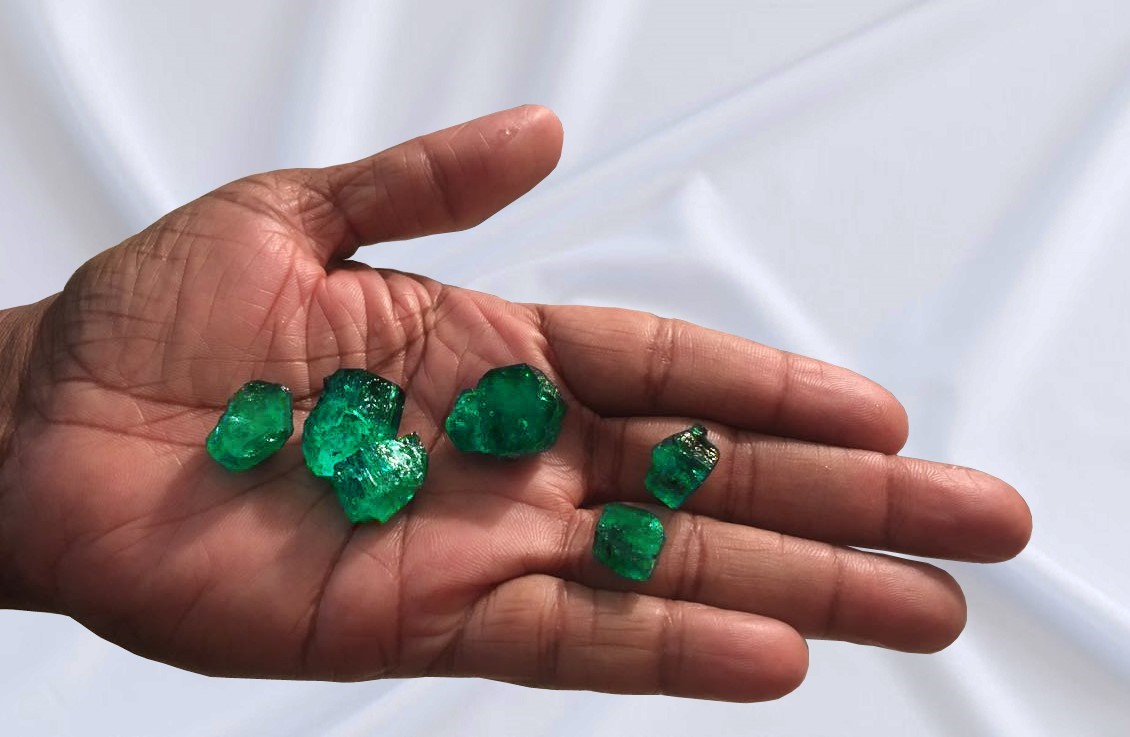 Renowned jewellery designer Poonam Soni stated that gemstones like Colombian emerald are gaining immense popularity in bridal trousseaus. "I personally use a lot of Colombian emeralds. I love cabochons the most and yes, the carved emeralds too. I have always felt that the Colombian emeralds are connected to a very royal era, since its vivid hue has a very regal feel, as compared to a Zambian or a Russian one. It can also be married to any stone, a pearl or ruby, or diamonds of any cut or colour, making it a very versatile stone for any designer. No wonder, why Colombian emeralds are used to create important jewellery such as an heirloom piece or a bridal set in which size, quality, and colour is given utmost importance," she added.
Talking about Columbian emeralds' popularity amongst her clients, she said: "Whenever my clients want to add a dash of colour to their jewellery, they always prefer Colombian emeralds. Especially people, who are well-travelled, notice the Colombian emerald jewel. The best part about it is that it can be set in yellow gold as well as white gold, hence making it a versatile wear with an ethic as well as western outfits. Not to mention, the minute you add a Colombian emerald to any piece, the value of your diamonds automatically increases several notches. People instantly know you are wearing a real piece since no one will put a Swarovski with a Colombian emerald. It authenticates your diamonds and not vice-a-versa. Note that, it's not only the higher class but also the working women aspire to have that one piece of Colombian emerald in their collection. Their wardrobe is incomplete without it!"
India's take on emeralds
The growing popularity of Colombian emeralds amongst Indian brides has definitely made heads turn. Women here are warming up to jewels that are embellished with this rare gemstone. Besides finding a home in all the biggest and finest jewellery houses of India, Colombian emeralds have been adorning celebrities at red carpet events, weddings, and other fashion outings here.
Biren Vaidya, the owner of The House of Rose, revealed that since 2008-09, Rose has been introducing Colombian emeralds to the HNI market and that the gem has been well received. "Many important gems have created great aspirations in the Indian customers. People here ask for more Colombian emeralds, as there is a global aspiration for it. The reason for this phenomenon is due to the Colombian emeralds' unparalleled beauty and their rarity. In the last decade, the prices of Colombian emeralds have increased by five to six times. The Colombian emerald has a happy green colour and its greenish hue, along with many other colours, adds to the grandeur of our Indian wedding sets. As quality now wins over quantity, the well-informed younger generation, aware of their aspirations and in control of their purchases, is happy buying important jewels all by themselves," he added.
Ethics of mining and marketing
When all is said and done, you cannot ignore the source and ethics used behind mining Colombian emeralds!
Rupak Sen, Chief Marketing Officer, Fura Gems Inc (a Canadian listed gemstone mining and marketing company that is known for its ethical routes for mining and marketing of Colombian emeralds), informed that the millennials want to know the source of every piece of jewellery they adorn and that they want to be sure, what they are wearing is not the result of cruelty or exploitation of any sort. "Fura Gems is the answer to those who seek responsibly sourced Colombian emeralds! It offers traceability throughout the emerald production chain. Each emerald is uniquely identified at the moment it is extracted from the ground and tracked throughout its journey until it reaches the consumer's hands as an individual gemstone or as a part of a finished jewellery piece. With so much investment, interest and history, it's no surprise that Colombia is the favoured origin among emeralds," he stated.
"There has been a significant decline in production of emeralds in Colombia lately. Keeping that in mind, Fura Gems helps in improving production and hence, fulfils the demand of this highly aspirational gemstone, globally. The geology of Colombian emeralds is very suitable for mining. Fura Gems is using modern methods of mining to extract the emeralds and these methods are sure to have a positive impact on future production in Colombia and its people," he further added.
Emeralds too are forever
Very few gemstones in the world market today provide the aura of adventure and intrigue, wealth and beauty that is so intrinsic to the Colombian emerald. Despite its fragility, the rich green hue of the emerald ensures the ongoing desirability and value of the gem.
The rarity of clear emeralds, with a vivid green hue, also ensures the lasting value of these breath-taking gems, which are after all, more precious than diamonds. Seems like the world's 4000-year love affair with emeralds has only just begun!
(Jewelpedia's News Desk, Mumbai)