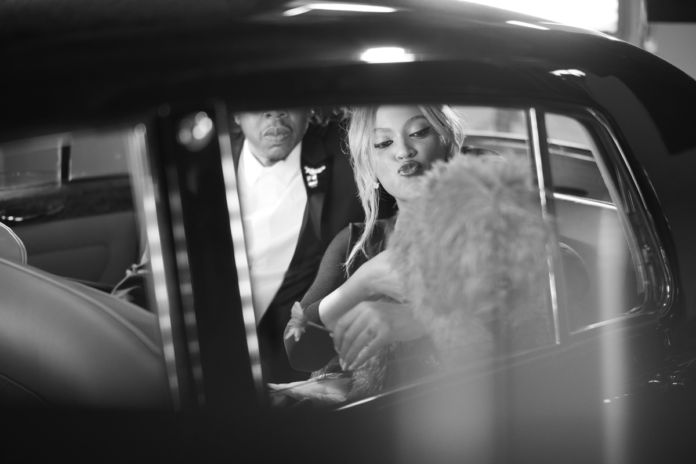 T

iffany & Co. has released the "Date Night" bonus film to its "About Love" campaign starring powerhouse couple Beyoncé and JAY-Z, with a special guest appearance of their daughter, Blue Ivy. 
Directed by Dikayl Rimmasch and second unit director Derek Milton, "Date Night " is exquisite bonus content to accompany Tiffany's About Love campaign, chronicling a night out with the Carters. The overarching About Love campaign explores the dimensionality of love, and the latest "Date Night" film shows us the playful side of the love story.
Set in New York City, "Date Night" is inspired by an iconic scene from "Breakfast at Tiffany's" and begins with Beyoncé riding through Manhattan in the backseat of a Rolls Royce. With Paul Anka's 
Put Your Head on My Shoulder 
and Bert Kaempfert's 
Three O'Clock In The Morning
 as the soundtracks to the car ride, Beyoncé plays a game of "he loves me, he loves me not" with a yellow daisy while sitting alongside JAY-Z. The couple takes in the city skyline while sharing pizza and a glass of Armand de Brignac champagne.
During their night out, the Carters wear an assortment of incredible Jean Schlumberger pieces. Most notably, JAY-Z wears the legendary Bird on a Rock brooch. One of the 21st century's most iconic designs, the piece features a platinum and 18k gold bird perched on a morganite gemstone of over 44 carats. Beyoncé also dons Schlumberger designs, including an Ailsa diamond ring of over 10 carats as well as a pair of Ribbon Fan earrings featuring diamonds of over 6 total carats. Jean Schlumberger was best known for dressing high society's elite in the 1960s and '70s, making it only appropriate that his unmistakable designs live out his legacy on two of today's greatest creative forces.
Witty, whimsical and romantic, "Date Night" is the result of yet another close collaboration and shared vision between both the Carters and Tiffany & Co. While the About Love campaign premiere film was a story of longing and reunion, "Date Night" is a story that demonstrates the beauty and joy of everyday romance.
"Date Night " launches globally on Tiffany & Co. platforms on October 19 at 7 AM EST. The campaign will further unfold later this year with additional bonus films created by acclaimed director Dikayl Rimmasch and second unit director Derek Milton. The "About Love" team includes wardrobe stylists June Ambrose and Marni Senofonte, hair stylists Jawara Wauchope and Nakia Rachon, and makeup artist Sir John Barnett.