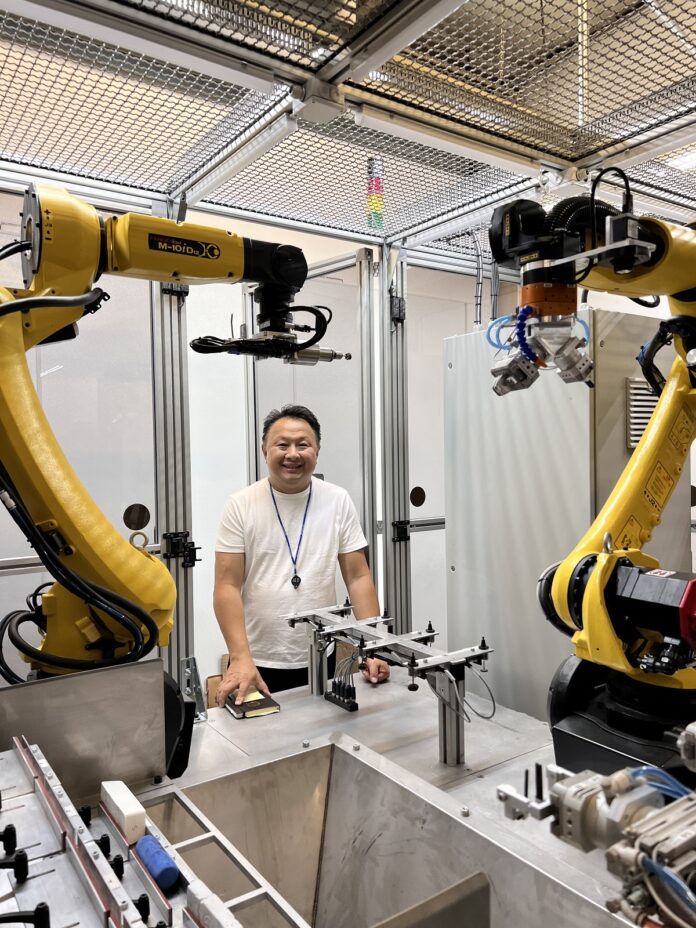 C

hristian Tse Design & Manufacturing (CTD&M) has announced the arrival of its all-new robotic polishing system in its California jewelry production facility. In a unique partnership with the engineering team at Flexible Robotic Environment (FRE), the custom VDK-2300 system has been in development since April of 2021 and will officially launch at the CTD&M factory in late September of 2022. 
Designed by FRE as a fully enclosed modular system, the VDK-2300 operates in an optimized footprint and avoids waste. With its ease of use, low maintenance, and high dependability, the system requires low human interaction, thereby solving workforce challenges like retention and availability of skilled craftsmen. The system can polish most rigid jewelry designs like rings, earrings, hard bracelets, pendants, and brooches.
"Our new robotic polishers allow optimal efficiency and cost-savings for the fine jewelry brands we manufacture for," says Christian Tse, award-winning jewelry designer and President of CTD&M. "We worked closely with the team at FRE to develop a highly customized, automated tool, that has yielded the most powerful, flexible, and user-friendly jewelry processing system in the world today. These new robots will save our clients labor costs, and the automated precision will ultimately create a better-finished product for the fine jewelry consumer."
Tse has been exploring automation in fine jewellery manufacturing for years. Pandemic-related restrictions for social distancing increased the urgency of his need for robotics. He reached out to FRE for a polishing system that could be customizable by jewelry design. The engineers responded with a dual articulated-arm robot solution that operates within a fully enclosed environment of structural aluminum, industrial safety mesh, and full-frame Lexan windows for loading the jewelry to be polished. The new system created for CTD&M includes one robot that holds the piece of jewelry and another that holds the specific polishing tool required for that particular design. Specialty fixturing and multiple tool changers allow the VDK-2300 system to process nearly the whole gamut of metals used in fine jewelry today. 
"The VDK-2300 system is a game changer for fine jewelry manufacturing," says Vojislav Kalanovic, PhD and President of Flexible Robotic Environment. "As the company that commercialized robotic jewelry processing, we were the perfect partner for Christian Tse. At Flexible Robotic Environment, we have a full offering of automated jewelry processing solutions, and Christian's vision of the future of manufacturing inspired us to create one of the most flexible and capable jewelry polishing systems ever. We are thrilled to have been a part of it, and we are excited to see where Christian and his team will take us next!"
To learn more about Christian Tse Design & Manufacturing, click
 here
. To learn more about Flexible Robotic Environment, click 
here
.